Graduates from Western Michigan University Cooley Law School's Tampa Bay campus received their juris doctor degrees during the law school's summer commencement ceremony on Aug. 12, 2017. The event was held at the University of South Florida's College of Music Auditorium.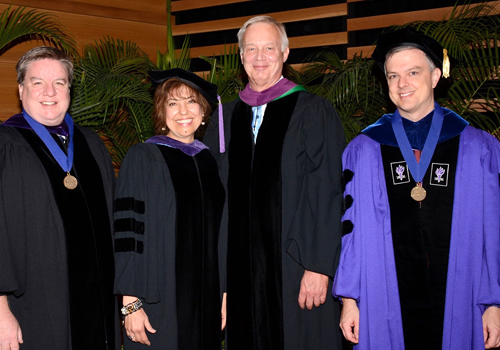 Graduate Sheila Lake was chosen by her classmates to give the valedictory remarks. During the ceremony, Judge Nelly Khouzam of Florida's 2nd District Court of Appeal provided the keynote and WMU-Cooley professors Brendan Beery and Dan Matthews were presented with the Stanley E. Beattie Award for Excellence in Teaching. Lake spoke to her classmates about the value of education. She stated that education is essential to all people, particularly in field of law. "Keep in mind that you are role models; you have a gift to share that could change the life of another person," Lake said.
Lake also spoke on behalf of her classmates, expressing gratitude to family members, friends and professors. "Without each of you we would not be here, finished, standing on the brink of a new life, of success, one that promises us the future that we have worked so hard for. So we thank you, for our futures and for helping us in our pursuit of success," she said.
While speaking to the graduates, Khouzam referenced a French proverb: "Petit a petit, l'oiseau fait son nid." She explained that the phrase is translated as, "Little by little, the bird makes its nest," and related it to her experience emigrating from Egypt. She described what she had to go through in order to be a successful student, lawyer and judge.
"This proverb speaks of the importance of humility, patience and perseverance," Khouzam said. "I encourage you all to stay humble, to stay patient and to persevere even in the face of adversity, always mindful that like the little bird, you are always building your proverbial nest."
Each class at WMU-Cooley bears the name of a distinguished member of the legal profession. The summer 2017 graduating class is named after U.S. Supreme Court Chief Justice Warren Burger. Burger was an American jurist and politician who served as the 30th governor of California and later the 14th Chief Justice of the United States.
Aug 12 2017