Western Michigan University Cooley Law School was honored in the National Press Club in Washington, D.C., on May 8, when the Center for Plain Language awarded the school its prestigious ClearMark Award in the Legal category. The recognition was for the school's restyled bylaws, which were recently redrafted by Emeritus Professor Joseph Kimble and Research & Writing Department Chair Mark Cooney.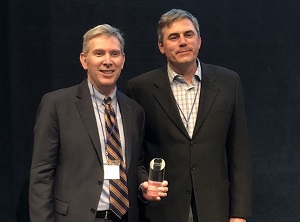 WMU-Cooley Law School Professors Joe Kimble and Mark Cooney have been awarded the Center for Plain English's ClearMark Award for their work revising the law school's bylaws.  Cooney (left) accepted the award from Jeff Greer, board member, Center for Plain Language during an awards ceremony at the National Press Club in Washington D.C. on May 8.
Each May, the Center for Plain Language celebrates forward-thinking North American companies, governments, and organizations with its ClearMark Awards. The center sets a high standard for clarity and simplicity in the documents its judges evaluate. The annual awards dinner brings together some of North America's greatest plain-language champions, all devoted to improving public communication.
The center has held the ClearMark Awards since 2010. Previous winners include the American Bar Association, Aetna, AARP, and the Consumer Financial Protection Bureau.
For the 2018 awards, the Legal category was narrowed to three finalists, and WMU–Cooley was chosen over Anthem, Inc. and Health Literacy Media.
The judges commented that WMU–Cooley's restyled bylaws represented "an outstanding version of what a legal document should be. It should be far easier to use than typical bylaws, which in turn should make it easier for the organization to fulfill its mission."
Professors at WMU-Cooley have for many years been leaders in the international plain-language movement.
Kimble is the longtime editor of the "Plain Language" column in the Michigan Bar Journal and the senior editor of The Scribes Journal of Legal Writing, published by Scribes (the American Society of Legal Writers). Kimble has published dozens of articles on legal writing and written three acclaimed books — Lifting the Fog of Legalese: Essays on Plain Language; Writing for Dollars, Writing to Please: The Case for Plain Language in Business, Government, and Law; and Seeing Through Legalese: More Essays on Plain Language. Kimble joined WMU-Cooley in 1984. He is a past president of Clarity, an international organization promoting plain legal language in law, and a founding director of the Center for Plain Language. He has won several national and international awards for his work. 
Cooney chairs WMU-Cooley's Research and Writing Department. He is editor in chief of The Scribes Journal of Legal Writing and has served as a plain-language consultant on the Michigan Supreme Court's Model Criminal Jury Instructions Committee and the State Bar's Standard Criminal Jury Instructions Committee. Professor Cooney's book, Sketches on Legal Style, is a collection of his "Plain Language" columns from the Michigan Bar Journal. His articles on legal writing have also appeared in The Scribes Journal, Student Lawyer, and TRIAL magazine. Before teaching, Professor Cooney spent 10 years in private practice and chaired the State Bar's Appellate Practice Section.
May 17 2018