Students at WMU-Cooley Law School's Tampa Bay campus were recognized for outstanding academic achievement, professionalism and leadership roles with various student organizations during an Honors Convocation on November 14.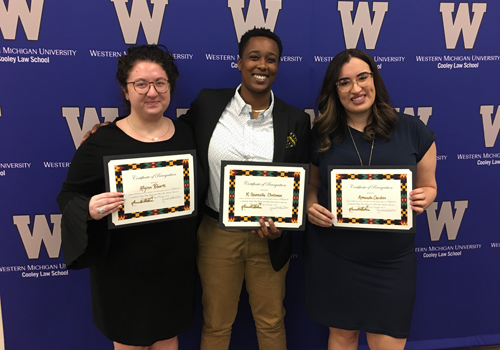 This term, seven students were presented the Leadership Achievement Award. The award is acknowledges students who have consistently, comprehensively, and effectively provided leadership in a variety of capacities and is intended to be the culmination of a student's participation in leadership activities at WMU-Cooley
Those honored include Amanda Cardoso, of Miami, Florida; K. Gennelle Chatman, of Miami, Florida; Olivia C. Cummings, of Paterson, New Jersey; Vanessa Flemming, of Brooklyn, New York; Laura Pack, of Clearwater, Florida; Trevor Persenaire, of East Grand Rapids, Michigan; and Diana Rouse, of Tampa, Florida.
Nov 19 2018