WMU-Cooley Law School Director of Academic Services and Associate Professor Emily Horvath, along with WMU-Cooley graduates Susan Cook, Laura Genovich, Mary Pigorsh, Sarah Ostahowski and Cinnamon Rice, were recently honored by Michigan Lawyers Weekly as members of the Class of 2017 Women in the Law.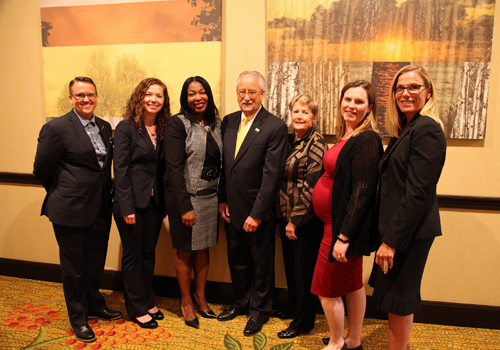 Each year, the Women in the Law program honors 30 high-achieving women lawyers in Michigan and their accomplishments. The eighth annual presentation of the Women in the Law awards took place on Thursday, Sept. 7 at the Detroit Marriott Troy.
Horvath joined WMU-Cooley Law School faculty in 2005. In addition to teaching Wills, Estates & Trusts at the law school, Horvath also serves as the director of Academic Services, where she works with students and faculty to develop programming to improve student success on the bar exam. In 2014, she received the distinction, Most Outstanding Professor of the Fraternity in the Nation, from Delta Theta Phi, International Law Fraternity.
Horvath is an advocate for human rights. She has served as co-chair of Michigan Pride to plan and execute the annual Statewide Pride March, Rally & Festival for LGBT rights. She also has served as president and chair of "Ways & Means" of the Zonta Club East Lansing Area (ZCELA), a group of individuals dedicated to improving the legal, political, economic, educational, health and professional status of women at the global and local level through service and advocacy.
Before joining WMU-Cooley as a faculty member, Horvath was an associate attorney with the firm of White, Schneider, Young & Chiodini, P.C. In this position, she developed an estate planning practice for the 13-member law firm, including planning for young families, domestic partners and estate tax avoidance. Her legal career began in 1999 at the firm of Willingham & Coté, P.C., first as a paralegal, and later as an associate attorney.
Cook is a partner at Warner Norcross & Judd LLP with more than 35 years of experience in the areas of bankruptcy, business reorganization, commercial litigation and business transactions. Genovich, a shareholder of Foster Swift Collins & Smith PC, practices municipal and commercial law in the firm's Grand Rapids office. Pigorsh practices family law and domestic relations with Smith Haughey Rice & Roegge. Ostahowski owns Sarah's Law Firm, which offers services in estate planning, and probate and estate administration. Rice is a shareholder at the law firm of Zausmer, August & Caldwell PC. She handles civil litigation matters, including first-party no-fault and third-party automobile negligence claims, premises liability, construction accidents, fraud and insurance coverage disputes.
Pictured (left-right) Emily Horvath, WMU-Cooley director of Academic Services and associate professor; Laura Genovich, shareholder of Foster Swift Collins & Smith PC; Cinnamon Rice, shareholder of Zausmer, August & Caldwell PC; Lawrence Nolan, president and founder of Nolan Thomsen & Villas PC and president of the State Bar of Michigan; Susan Cook, partner at Warner Norcross & Judd LLP; Sarah Ostahowski, owner of Sarah's Law Firm; and Mary Pigorsh, attorney at Smith Haughey Rice & Roegge.
Sep 13 2017