Image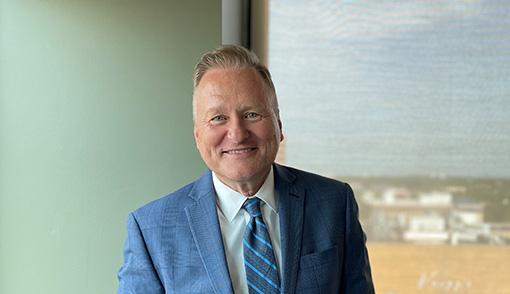 Senior Vice President and Associate Dean of Administration, Enrollment, and Student Services
B.A. State University of New York @ Geneseo
M.A. Michigan State University
Ph.D. Michigan State University
[email protected]
(517) 371-5140, ext. 2843
 
My role at Western Michigan University Cooley Law School as Senior Vice President and Associate Dean of Administration, Enrollment, and Student Services (AESS) includes leading all departments that provide support activity for students, alumni, and external constituencies. I supervise the offices of Admissions and Financial Aid, Advancement and Alumni Relations, Communications, Enrollment Data Systems, Enrollment Programs, and Student Services, Pre-Enrollment Programs and Diversity, the Office of the Registrar and Student Records.
I  joined WMU-Cooley Law School in 1996 as the Executive Director of the Office of Programs and Students and became an Assistant Dean in 1998. Shortly thereafter I was promoted to be the School's first Associate Dean of Professionalism, where I initiated the School's effort to address issues of professionalism at the law school and in the profession and co-authored the School's award-winning Professionalism Plan. I worked with the Dean and faculty to establish Cooley's Academic Resource Center in 2000, which is widely viewed as the most comprehensive academic assistance program in legal education. In 2002, I was appointed the Associate Dean of Enrollment and Students Services.  In 2019 I became a Senior Vice President.
During my time at Cooley, I have seen Cooley's student enrollment double and its retention rates improve and have been a part of the leadership team positioning the school to respond to an ever-changing profession.
I began my career in higher education in 1982 as an Admissions Counselor at SUNY Geneseo and held various positions at Michigan State University (MSU), including positions as Coordinator of Student Activities and Leadership Development, Coordinator of the Campus Alcohol and Other Drug Education Program, Judicial Affairs administrator, Campus Life Orientation administrator, and Resident Student Life Director. I have also worked in the Financial Aid Office and was the University Liaison to the Greek System. I am a past President of the Michigan Consortium for Substance Abuse Education and taught a leadership development course in the College of Education at MSU. I have presented at local, regional, and national conferences and was a former directorate body member for Commission VX – Judicial Affairs for the American College Personnel Administration. Most recently I was appointed to the Law School Admission Council Committee on Emerging Markets and Innovation.
 
Following receipt of a Bachelor's Degree in Psychology from the State University of New York at Geneseo, I have completed two degrees from Michigan State University; a Master of Arts Degree in College and University Administration with a Student Affairs Emphasis, and a Doctorate of Philosophy in Educational Administration with an emphasis on Higher and Adult Education.