Image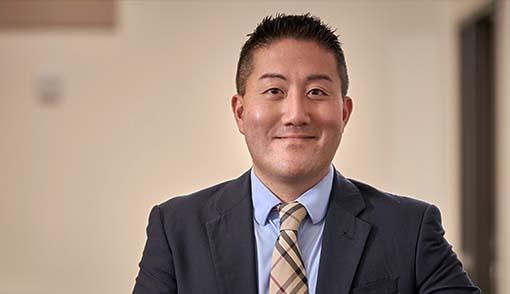 Director of Academic & Student Services, and ASSOCIATE Professor
B.A., Lawrence University, Cum Laude 2008
J.D., WMU-Cooley Law School, Magna Cum Laude, 2013
LL.M., WMU-Cooley Law School, 2015
"Education is not preparation for life; education is life itself." - John Dewey, Attributed
I joined the WMU-Cooley full-time faculty as a Visiting Professor in 2019. I also serve the law school as the Director of Academic & Student Services.
I currently teach Contracts, Florida Bar Exam Skills, and Bar Exam Skills. Previously, I served the law school as the Academic Resource Center Coordinator and as an Adjunct Professor teaching Research & Writing, Drafting, Florida Bar Exam Distinctions, BarPlus, Florida Bar Workshop, and Introduction to Law I and II.
Before joining WMU-Cooley, I was a teaching assistant at Lawrence University, in Appleton, Wisconsin. During law school, at WMU-Cooley, I served as a grade appeals magistrate, a student ambassador, Law Review Managing Associate Editor, and as a Teaching Assistant for Scholarly Writing.
I am Of Counsel with the Marin Law Firm in Marquette, Michigan, assisting with the research, drafting, and writing of appellate briefs. I have also been a volunteer with the Bay Area Legal Services Domestic Violence Assistance Project and with the Family Forms Clinic.
Books
Florida Contract Law: Cases, Problems & Materials; see www.mylegs.org.
Articles
Matthew Marin & Amanda M. Fisher, Wellness: Be Proactive!, Student Lawyer (May 16, 2022). 
Matthew Marin, Be on your GAME: Etiquette tips for law students, Student Lawyer (December 13, 2021). 
Paul Carrier & Matthew Marin, Two, Three, or Four Prongs? The Contractual Defense of Unilateral Mistake in Florida, The Florida Bar Journal, November/December 2021, Vol. 95, No. 6, at 16.
Matthew Smith-Marin & Amanda M. Fisher, Asynchronous Teaching Methodologies: Pandemic Reflections and Best Practices, The Learning Curve: A Publication of the AALS Section Academic Support, Summer/Fall 2021, at 11.
Amanda M. Fisher & Matthew Marin, Leading with Compassion: Reflections on Post-COVID-19 Legal Education, The Learning Curve: A Publication of the AALS Section Academic Support, Winter/ Spring 2021, at 14.
Lectures & Workshops
"EXCELerate: A Seamless Skills Curriculum From Pre-Orientation Through The First Term," for The South Florida Regional ASP Conference (January 28, 2022). 
"Creating and Administering an Asynchronous Course: Why it Works, and Why We Plan to Keep Doing it This Way," for the Institute for Law Teaching and Learning Summer 2021 Conference (June 10, 2021).
"Compassion in Law School: Post-COVID-19 Implications" for Hamilton Lugar School Symposium (January 14, 2021).
"Remote Teaching Methods: Best Practices" for the New England Consortium of Academic Support Professionals (NECASP) Annual Conference (March 26, 2021).