Military benefits
All military applicants interested in law school should first meet with their Educational Service Officer (ESO) or counselor within the Military Service before enrolling.  
Image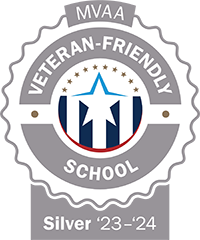 Cooley has admissions advisors who can assist you with your law school application process throughout your time in law school.
Contact the campus specific School Certifying Official (SCO) to discuss academic, financial advising and disability counseling.
Cooley is a Michigan Veteran Affairs Agency (MVAA) SILVER certified Veteran-Friendly School. The Michigan Veteran-Friendly School program recognizes academic institutions of higher learning committed to supporting the needs of student veterans and dependents.
Check out the three most critical issues
How to complete a FAFSA as a veteran and maximize your federal financial aid package
A handpicked list of scholarships for veterans and active duty service members
A breakdown of the most common benefits available to veterans
Military and Recruiter Friendly
We offer an array of support to students with military service experience such as: academic advising, admissions guidance for testing, applications and disclosures, disability services, GI Benefits assistance, help with housing and relocation, student-life activities on and off campus, including military student organizations.
Trained admissions and financial aid staff to assist with process
Accommodations for reservists/active duty
Leaves as needed for deployments
Flexible scheduling options for students with full-time jobs and families
Prior-service faculty to advise students
Locations - in Michigan and in Florida
Student Orgs for members of military
Counseling services available in Michigan and Florida through Lawyers Assistance Programs
Objective admissions policies
Award-winning, nationally recognized ethics and professionalism program
VA Financial Aid and Benefits
Once the military applicant has received approval from her/his ESO, they will then be designated to speak with a trained School Certifying Official (SCO) at each campus. These staff members have been trained through the VA to assist with the application process, benefits, academic and financial advising, disability counseling and additional student support services as needed.  
Begin the process of applying for the Department of Veteran Affairs educational benefits at the VA website here. 
Cooley Law School accepts all chapters offered by the VA to assist veterans and their dependents to attend college.  Each benefit is described below.
Chapter 30-GI Montgomery Bill
Chapter 33-Post 9/11 GI Bill®
Chapter 1606-Select Reserve GI Bill®
Vocational Readiness and Employment
Dependents Educational Assistance (DEA)
Post 9/11 GI Bill® recipients receiving the %100 rate may be eligible for the Yellow Ribbon program. 

Apply for the Yellow Ribbon Program here 

Current Tuition & Academic Expenses here
JAG Careers
JAG, VA and Civil Service legal opportunities available
Approved externship placements in active duty, National Guard and Reserve JAG offices
Dozens of distinguished alumni serving or having served as JAG officers
Faculty advisors with prior JAG experience
Student Orgs for students interested in JAG careers
On-campus JAG recruiting
Military pro bono experiences available
Are you a Veteran in crisis or concerned about one?
Call the Veteran's Crisis Line at 1-800-273-8255 and press #1.
GI Bill® is a registered trademark of the U.S. Department of Veterans Affairs (VA).  More information about education benefits offered by VA is available at the official U.S. government website.