Earn the J.D. that says: "Ready to practice"
Image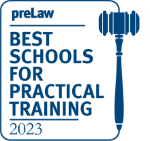 Always Have Been A Practice Ready Law School, Always Will Be.
We won't simply tell you a J.D. from Cooley will prepare you for law practice. 
We'll give you the knowledge, practical skills and ethics to hit the ground running. With our rigorous academic programs, you'll work hard, be challenged, and gain confidence — but you'll also get real-world experience before you graduate. 
So you won't just learn the law … you'll live and breathe it.  
 
A Cooley J.D. Sets You Apart
As a leader in modern legal education, we've been training a diverse group of practice-ready lawyers since 1972. We not only prepare you for the bar examination and field of law, but we also require actual practical experience from every student — emphasizing real-world readiness that sets you apart from the crowd. 
  
You'll also benefit from our:
Faculty with an average of 15 years teaching the law
Empirically proven teaching methods
Equal access to justice for people of all backgrounds
Variety of schedule options with two- to five-year programs
Choice of attractive campus locations
Specialty law school concentrations
Our Curriculum Fuels Your Success
Cooley Law School's well-rounded J.D. curriculum is specifically designed to help you succeed, whether you're taking the bar examination, launching your law career, or pursuing graduate studies. Through our stimulating, rigorous and challenging courses of study, we give you our best — to bring out your best. 
  
Learn more about what to expect at each stage in your law school journey:
Tailor Your Training to Our J.D. Concentrations
If you choose to specialize in a particular field of practice, we offer nine areas of concentration:
Administrative Law — Centers on administrative procedures and governmental law.
Business Transactions — Instructs how to negotiate, structure, and implement transactions.
Canadian Law Practice — Prepares students for practice and licensing in Canada.
Environmental Law — Teaches environmental laws and policies.
General Practice, Solo, and Small Firm — Prepares students for opening their own firm or solo practice.
Intellectual Property — Focuses on patent, trademark, and other intellectual property.
International Law — Covers public law (human rights, immigration, environmental) and international business transactions.
Litigation — Teaches civil or criminal litigation, including negotiation and alternative dispute resolution skills.
Focused Studies — Allows students to build their own focused area of study.
Read about why law school concentrations are important. "Law School Concentrations and Why They're Important." 
 
Hands-On Learning Gives You An Edge
At Cooley, we don't just believe in hands-on learning … we require it. In fact, we were founded on the premise that students who've learned actual real-world lawyering skills will have distinct advantages over those who've only learned the theory of the law. That's why every student must have practical skills training before graduating. You also must perfect writing and research skills core attributes of well-trained attorneys. And, to fully immerse you in the realities of being a lawyer, we require participation in some form of experiential learning including:
1) Law School Clinics — An on-campus experience where students do pro bono work under an experienced faculty member's supervision (i.e., Sixty-Plus Elderlaw Clinic, Cooley Innocence Project, etc.).
2) Law School Externship — Cooley's externship program allows students to work with a practicing attorney or judge at any one of over 3,000 placement sites across the nation. Student externs have the exciting opportunity to work, network, and receive mentorship with professionals at real-life law firms, courtrooms, and legal businesses, and receive credit for your time. 
Experiential Learning, Clinics & Externships
Our faculty know the world of law — the real world
Cooley has some of the most experienced faculty of any law school in the country — inside the classroom and the courtroom. With an average of 15 years teaching the law, our professors also average 11 years practicing law before choosing the classroom as a career. 
  
Our faculty focus the majority of their time doing exactly what they love to do — teach, support, and mentor our students in the ways of success. And our students rave about our professors. In fact, our faculty consistently receive ratings of 9 out of 10 in student course evaluations. That's not surprising when you realize the scope of their accomplishments. Our experts are so respected, they often find themselves as legal experts in the media, by topic and on important news events of the day. 
  
Best of all, our professors are known for being available to students, answering questions, and spending time going over hard-learned legal concepts. By mentoring in academics as well as in life, Cooley faculty empower you to achieve your goals, no matter what is going on in your daily life. Check out this blog on Professor Emily Horvath. 
Your Law School Location Is Up To You
To give you more options, Cooley has grown to two campuses, one in Florida and the other in Michigan. 
  
Visit our campuses in Tampa Bay and Lansing.  Each location offers comfortable and beautiful surroundings that include outstanding classrooms and learning facilities; law libraries staffed with professionals who support you seven days a week; quiet and safe study areas; and inviting spaces to meet, network, and share friendship with other students and faculty. 
  
Each location has its own personality. It's just a matter of knowing yours. No matter which location is right for you, you'll find numerous volunteer projects and opportunities that show you how giving back and lawyering are intertwined.
Learn more about the communities near our locations:
Where Can a Cooley J.D. Take You?
With more than 20,000 Cooley graduates making their mark across the nation and the world, you'll find yourself amongst a diverse, fiercely proud family of leaders. Read more about our amazing graduates. 
Image