DISCOVER THE LAW AROUND THE WORLD
WMU-Cooley offers students the opportunity to study abroad in the most interesting corners of the world. Read exploits of our law students abroad by visiting WMU-Cooley's blog site here.  Please contact the International Programs Office should you have any questions about participation in study abroad and the programs in which you are interested.
"WMU-Cooley's International Programs Office changed for me what a law school experience really means in today's world. What I thought law school looked like when I first started and what I saw in Toronto and Oxford changed my perspective. The books are still stacked high, but now so is my sense of a global legal education."  Charles Hickman, WMU-Cooley student, 2017 Toronto and Oxford Programs
Study Abroad Programs
 
Australia/New Zealand
The Australia/New Zealand Program is a semester program "Down Under".  This exciting program allows law students to live and study in New Zealand for about five weeks and the remainder of the semester in Australia.  It is anticipated that the 2020  program will begin in Hamilton, New Zealand on January 2, 2020 and conclude in Melbourne, Australia, on April 9, 2020. Find out more on Australia/New Zealand here. 
Toronto, Canada
The WMU-Cooley Law School Toronto summer program returns to the University of St. Michael's College from May 16-June 28, 2019, for its 20th consecutive year in downtown Toronto, Canada.  A maximum of six credits may be earned during the two 3-week sessions. 
If you are interested in an economical study abroad program that features important international law topics, including Canadian law topics, and outstanding faculty members.  Find out more on Toronto, Canada here. 
Oxford, England
WMU-Cooley Law School returns for its 6th summer Study Abroad program in Oxford, England from July 1-August 2, 2019. The five-week, 6-credit program takes place during July and the first week in August. Find out more on the Oxford, England program here.
Münster, Germany
WMU-Cooley Law School and the University of Münster's law school have an agreement that allows WMU-Cooley students the opportunity to learn and teach as part of a student exchange program.  The program provides participating students with the opportunity to immerse themselves in international law. All the courses are taught in English. Find out more about our Münster, Germany Exchange Program here. 
Santander, Spain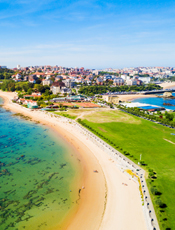 WMU-Cooley students have the opportunity to study at the University of Cantabria law school in Santander, Spain. The program provides participating students the opportunity to immerse themselves in comparative and international law.  Find out more about our Santander, Spain Exchange Program here.