Advocating for the Elderly
Sixty Plus is WMU-Cooley's live-client elder law clinic. The Sixty Plus clinical experience enables students (called legal interns) to interview, counsel, represent and advocate for actual clients, all of whom are age 60 and older who reside in Ingham, Eaton, or Clinton counties. Interns, who are closely supervised by the clinical faculty, proceed on behalf of clients in a wide variety of legal matters and activities, including drafting pleadings, arguing motions, negotiating with opposing counsel and conducting trials Under Michigan's Student Practice Rule 8.120.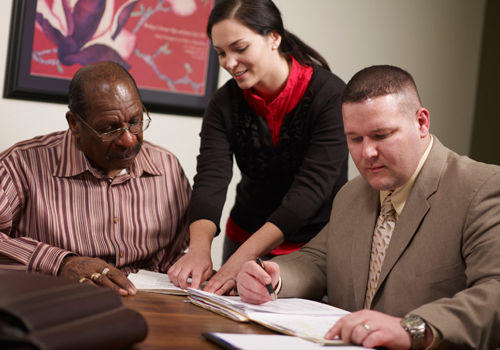 Sixty Plus accepts applications from students who will have completed 40 or more credits by the time they begin the clinic, and who have a cumulative GPA of 2.0 or better. The two-term internship experience enables students to practice in a general civil law practice. Typical cases involve preparation of wills, powers of attorney, medical health directives, public benefit issues including social security, Medicare, and Medicaid; cases of personal rights including divorce and grandparent visitation; property issues including landlord/tenant disputes and real estate transactions; consumer rights issues including consumer contracts, fraudulent acts, and debt collection prosecution or defense; probate matters including guardianship/conservatorship and probating of decedent's estate.
Students who enroll in Sixty Plus must do so for two consecutive terms and will earn three credits per term. Sixty Plus also offers a one-term Estate Planning Clinic. This program is available to weekend and evening students and others if space is available. There will be two sections offered, an evening session and a Saturday morning session. Interns will interview and counsel actual clients and draft wills, powers of attorney, and medical directives for the clients. This program allows students to have the clinical experience during weekend or evening hours.
About the Internship Programs
Sixty Plus offers a unique opportunity for Cooley students to represent real clients.
It is an extraordinary opportunity. As an intern at Sixty Plus, you will have the chance to experience the general civil practice of law in a "hands on" environment, with a select clientele — those 60 years of age and older in the tri-county area.
You will interview, counsel, and represent clients as a Sixty Plus intern.
You will engage in the practice of law under the supervision of experienced attorneys.
You will probably have an opportunity to appear in court.
You will work with a highly skilled group of legal secretaries and support staff.
You will have opportunities to polish your public speaking skills.
You will have an opportunity to use technology for the purposes of self-evaluation as well as for the practice of law.
You will have an opportunity to work in a collegial, cooperative atmosphere with other interns.
You will have an opportunity to apply the legal theories you have learned in the classroom in your real cases with live clients.
You will have an opportunity to engage in negotiations/conversations with practicing attorneys in the community.
Make your Mark
Selected students enrolling in the Sixty Plus two-term internship program must enroll for two consecutive terms. You will be required to complete the program once the first of the two terms has begun. At the beginning of each term, you will be expected to attend an intensive orientation class. The purpose of this orientation is to familiarize you with the procedures and basic legal issues which you will face as you deal with our clients. This is a good way to "come up to speed" very quickly so you can begin your clinical experience as quickly as possible.
You will be expected to be at the clinic frequently, and to maintain regular communication with the office staff, your supervisor, and your clients. We make every effort to accommodate your class and work schedules. Except for extraordinary circumstances, students who withdraw from the two-term internship program after Friday of the first week of the first term will earn an "F" for the class for that term. Withdrawal in the second term will result in an "F" for both terms.
The most frequently asked question about Sixty Plus is "How much work will this involve?" Including class time (three hours per week) and meetings with your supervisor, you can expect to invest between 10 and 20 hours per week on clinic-related work. You will be required to document a minimum of 90 hours of work per term.
All students with a cumulative GPA of 2.0 or better, at least 40 credit hours earned, and at least two terms left before graduation are eligible for admission to the Sixty Plus Two-term Internship Program. The Estate Planning Clinic requirements are the same, except you can apply with one term remaining.
Applications are reviewed to ascertain the applicants' eligibility, and eligible students are selected for enrollment in the Sixty Plus Clinics. Applicants closest to graduation, with at least two terms remaining, are favored in the Two-Term Internship Program selection process. The Estate Planning Clinic favors students with one term remaining who are in the weekend or evening class sections. Students who have applied before and not selected for enrollment are also favored. A list of the students selected is posted on the Sixty Plus bulletin board on the second floor of the school, along with the waiting list of alternates. The lists are posted no later than noon on the day before registration begins.
Questions?
If you have questions regarding Sixty Plus, Inc. Elderlaw Clinic, contact the faculty advisor:
Donations
Sixty Plus, Inc. does not charge for its services and receives no government funding. It is maintained entirely by WMU-Cooley Law School and private donations.
To help keep this important project going and to take part in its beneficial mission you can make donations payable to:
WMU-Cooley Law School Sixty Plus, Inc.
300 S. Capitol Avenue
Lansing, Michigan 48933
Sixty Plus, Inc., Elderlaw Clinic receives support for client services from the following.
Tri-County Office on Aging
Capital Region Community Foundation
State Bar of Michigan