MEETING THE ESTATE PLANNING NEEDS OF THE ELDERLY
The Sixty Plus, Inc., Elderlaw Clinic (Sixty Plus) is WMU-Cooley's live-client estate planning clinic. The Sixty Plus clinical experience enables students (called student attorneys) to interview, counsel, represent and draft estate planning documents for actual clients, all of whom are age 60 and older. Student attorneys, who are closely supervised by the clinical faculty, proceed on behalf of clients drafting a variety of estate planning documents, including wills, power of attorney for health care, durable power of attorney for finances, and enhanced life estate deeds under Michigan's Student Practice Rule 8.120.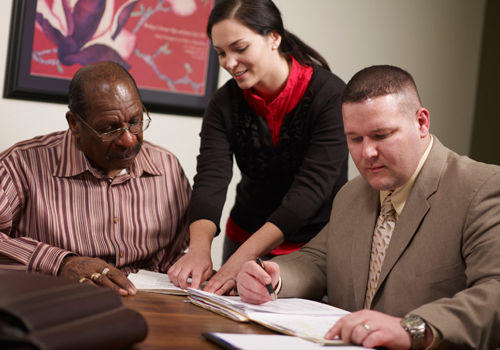 Sixty Plus accepts applications from students who will have completed 40 or more credits by the time they begin the clinic, and who have a cumulative GPA of 2.0 or better. The one-term clinic experience enables students to practice in a transactional law firm practice. Typical cases involve preparation of wills, powers of attorney, medical health directives, and deeds. Students who enroll in Sixty Plus will earn three credits. This program is available to weekend, evening, and day-time students. There will be two sections offered, an evening section and a Saturday morning section. This program allows students to have the clinical experience during weekend or evening hours.
About the Clinic Program
Sixty Plus offers a unique opportunity for Cooley students to represent real clients. It is an extraordinary opportunity. As a student attorney at Sixty Plus, you will have the chance to experience a transactional law practice in a hands on learning environment, with a select clientele — those 60 years of age and older. You will interview and counsel clients as a Sixty Plus student attorney. You will engage in the practice of law under the supervision of licensed Michigan attorneys.
You will work with highly skilled support staff.
You will have an opportunity to use technology for the purposes of self-evaluation, case management, and the practice of law.
You will have an opportunity to work in a collegial, cooperative atmosphere with other student attorneys.
You will have an opportunity to apply the legal theories you have learned in the classroom in your real cases with live clients.
You will have an opportunity to draft estate planning documents, legal memorandums, and correspondence.
Make your Mark
Selected students enrolling in the Sixty Plus, must enroll for one term. At the beginning of each term, you will be expected to attend "front load" classes. The purpose of the "front load" classes is to familiarize you with the procedures and basic legal issues which you will face as you deal with our clients. This is a good way to come up to speed so you can begin your clinical experience as quickly as possible. You will be expected to be at the clinic a minimum of one time per week, and to maintain regular communication with the office staff, your supervising attorney, and your clients. We make every effort to accommodate your class and work schedules. Except for extraordinary circumstances, students who withdraw from the clinic program will earn a "WX" for the class. The most frequently asked question about Sixty Plus is How much work will this involve? Including class time/client appointments (three hours per week) and meetings with your supervisor (1 hour per week), you can expect to invest between 9-10 hours per week for 14 weeks on clinic-related work. You will be required to document a minimum of 127.5 hours of clinic related work per term. All students who have completed Research and Writing, Personal and Professional Responsibility, and Wills, Estates, and Trusts, with a cumulative GPA of 2.0 or better, at least 40 credit hours earned, and at least one term left before graduation are eligible for admission to Sixty Plus.
Applications are reviewed to ascertain the applicants' eligibility, and eligible students are selected for enrollment in the Sixty Plus. Applicants closest to graduation, with only one term remaining, are favored in the selection process. Students who have applied before and not selected for enrollment are also favored.
Questions?
If you have questions regarding Sixty Plus, contact the faculty advisor Professor Dustin S. Foster at [email protected].
Donations
Sixty Plus, does not charge for its services and receives no government funding. It is maintained entirely by WMU-Cooley Law School and private donations. To help keep this important project going and to take part in its beneficial mission you
can make donations payable to:
Sixty Plus, Inc., Elderlaw Clinic
WMU-Cooley Law School
300 S. Capitol Avenue
Lansing, Michigan 48933
Seniors Seeking Services
The Sixty Plus, Inc., Elderlaw Clinic (Sixty Plus) is an estate planning clinic at WMU-Cooley Law School's Lansing, Michigan campus. Sixty Plus is a teaching clinic staffed by law students. The students are supervised by attorneys and are authorized to practice law under the supervision of a Michigan licensed attorney. Student Attorneys can interview and counsel clients, draft wills, durable power of attorney for finance, powers of attorney for health care, and enhanced life estate deeds at no charge to the client. Sixty Plus is currently accepting requests for services from seniors age 60 and older. If you are a single person, your estate value must not exceed $150,000, excluding the value of your primary residence and a vehicle. If you are married, your combined estate value must not exceed $250,000, excluding the value of your primary residence and a vehicle. Sixty Plus will distribute questionnaires to determine eligibility and priority in the clinic. If chosen to participate, the client will meet with a student attorney to discuss their goals, needs, assets, and determine their estate plan. At the conclusion of the representation, the client will have a proper estate plan that meets their individual needs.
For more information on Sixty Plus, please contact:
Sixty Plus, Inc., Elderlaw Clinic
300 S. Capitol Avenue
Lansing, Michigan 48933
Telephone: (517) 334-5760
Fax: (517) 334-5761
Email: [email protected]