Competing on a Global Level
WMU-Cooley students can choose to hone their skills in competitions against other WMU-Cooley students. 
Image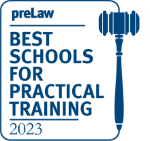 Others choose, if selected, to represent WMU-Cooley against students from other law schools.  WMU-Cooley faculty coach the travel teams and accompany them across the country as students compete on skills including client counseling, negotiation, trials, and appellate advocacy. WMU-Cooley teams have been successful against some of the top-rated schools in the country in all aspects of skills competitions.  WMU-Cooley Law students have placed first in the American Bar Association (ABA) Law Student Division Client Counseling and named National Champions, going on to the International Competition. 
Moot Court
WMU-Cooley's moot court teams learn the necessary skills needed to be successful litigators. Students learn public speaking skills, gain the confidence and ability to think on their feet, and come away with the knowledge and understanding of appellate court practice. It is these qualities and skills that make the moot court experience invaluable to students and their employers.
First-Year Competition
Intra-School Moot Court Competition
Mock Trial
Since 2005, WMU-Cooley's mock trial program has grown into one of the largest and most well-respected student organizations on WMU-Cooley's campuses. With the support and assistance of the adjunct and full-time faculty, the Mock Trial Board is able to reach many students with extensive training in trial advocacy, providing them with opportunities to compete on the intra-school and national level.
First-Year Competition
Evidence Competition
Intra-School Competition
Invitational Trial Competition
National Mock Trial Teams
Practice Skills Competitions
Cooley does not limit participation in competitions to Mock Trial and Moot Court. Cooley students participate in practice based skills competitions such as client counseling, negotiation and mediation.
Client Counseling Competitions
Negotiation Competitions
Mediation Competition