Clinics Make You Practice Ready
Image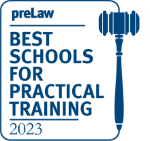 The law school's curriculum is designed to help you master the knowledge you'll need to pass the bar examination and competently practice law. With 66 required credits – including Bar Exam Skills – you will have a class in almost every subject tested on the bar examinations in all 50 states.  
The curriculum also teaches you the skills you need to be successful, even on your first day of practice. Unlike students at most schools, you will already have real-world practice. 
All students must participate in a clinic – essentially, an internal law firm of students who do pro bono work under an experienced faculty member's supervision – or an externship with a practicing attorney or judge. Students have the option of participating in the following clinics.
---

Clinics
Debt Relief Clinic
The Debt Relief Clinic provides debt-related legal assistance on issues arising from past-due medical/hospital bills, loans, predatory lending, unfair/abusive collections practices, and more for under-served individuals in Hillsborough County, Florida. Students have an opportunity to represent clients in transactional matters, alternative dispute resolution, and pre-litigation resolution, all under the supervision of practicing attorneys.
Public Defender Clinic
Students in the Public Defender Clinic work on a variety of criminal cases (misdemeanors and felonies) in the Washtenaw County District and Circuit Courts and juvenile cases (delinquency, abuse, and neglect) in the Washtenaw County Probate Court.  
Sixty Plus, Inc., Estate Planning Clinic
The Estate Planning Clinic information is here. It is a one-term live-client clinics, available for evening and weekend students in either Lansing, Michigan. Students interview and counsel clients and draft wills, powers of attorney, and medical directives for the client. 
WMU-Cooley Innocence Project
The WMU-Cooley Innocence Project here has the dual mission is to identify, provide legal assistance to, and secure the release of persons who are wrongfully imprisoned for crimes they did not commit, and to provide its students with an excellent learning experience. The clinic accepts cases where DNA evidence may establish innocence. 
Other programs
Kimble Center for Legal Drafting
The Kimble Center for Legal Drafting here has a mission is to produce and make available—to attorneys and consumers—legal documents that are clear and easily understandable, documents unlike anything that the public is used to seeing from attorneys.